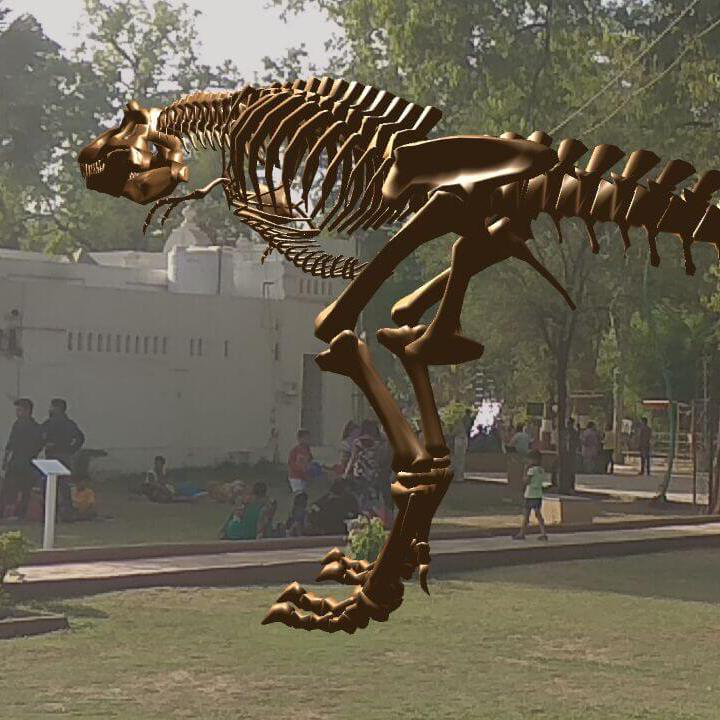 Tyrannosaurus rex was one of the largest meat-eating dinosaurs that ever lived. Everything about this ferocious predator, from its thick, heavy skull to its 4-foot-long (1.2-meter-long) jaw, was designed for maximum bone-crushing action. Fossil evidence shows that Tyrannosaurus was about 40 feet (12 meters) long and about 15 to 20 feet (4.6 to 6 meters) tall. Its strong thighs and long, powerful tail helped it move quickly, and its massive 5-foot-long (1.5-meter-long) skull could bore into prey.
T rex's serrated, conical teeth were most likely used to pierce and grip flesh, which it then ripped away with its brawny neck muscles. Its two-fingered forearms could probably seize prey, but they were too short to reach its mouth.
Learn about T Rex @ Sayajibaug @ https://link.vuexr.com/sl/DgFNZqUcTKaicpJh8
Here's a video that tries to capture the experience of standing in front of the T Rex skeleton at Sayajibaug.
Learn about T Rex in 3D right here in a vue web player. Just hit the play button below and walk in the vue using W-A-S-D or up-down-left-right arrow keys and navigate your way in 3 dimensions using mouse left click. Don't forget to share this with your friends and family.
SooperparK is an Augmented Reality park that is going to be spread across the entire earth. Yes, you heard it right, the entire earth. Starting from our very own smart city Vadodara, AR World is going to design and place vuespots across India and then the world.
Bringing Augmented Reality based media right to our mobile phones, VueXR gives us the power to design and pin vues on geolocation. AR World brings to the citizens of Vadodara the first-ever AR park in the history of parks at Sayajibaug.
Take out your smartphones and walk inside an Augmented World, pause the vue and feel like you are at the speed of light and time has frozen for you, learn about various facts of the solar system by visually seeing it in front of your eyes, witness how the dinosaurs went extinct, stand in the middle of world war II, play with giant turtles, sharks, whales, and octopuses right around you.