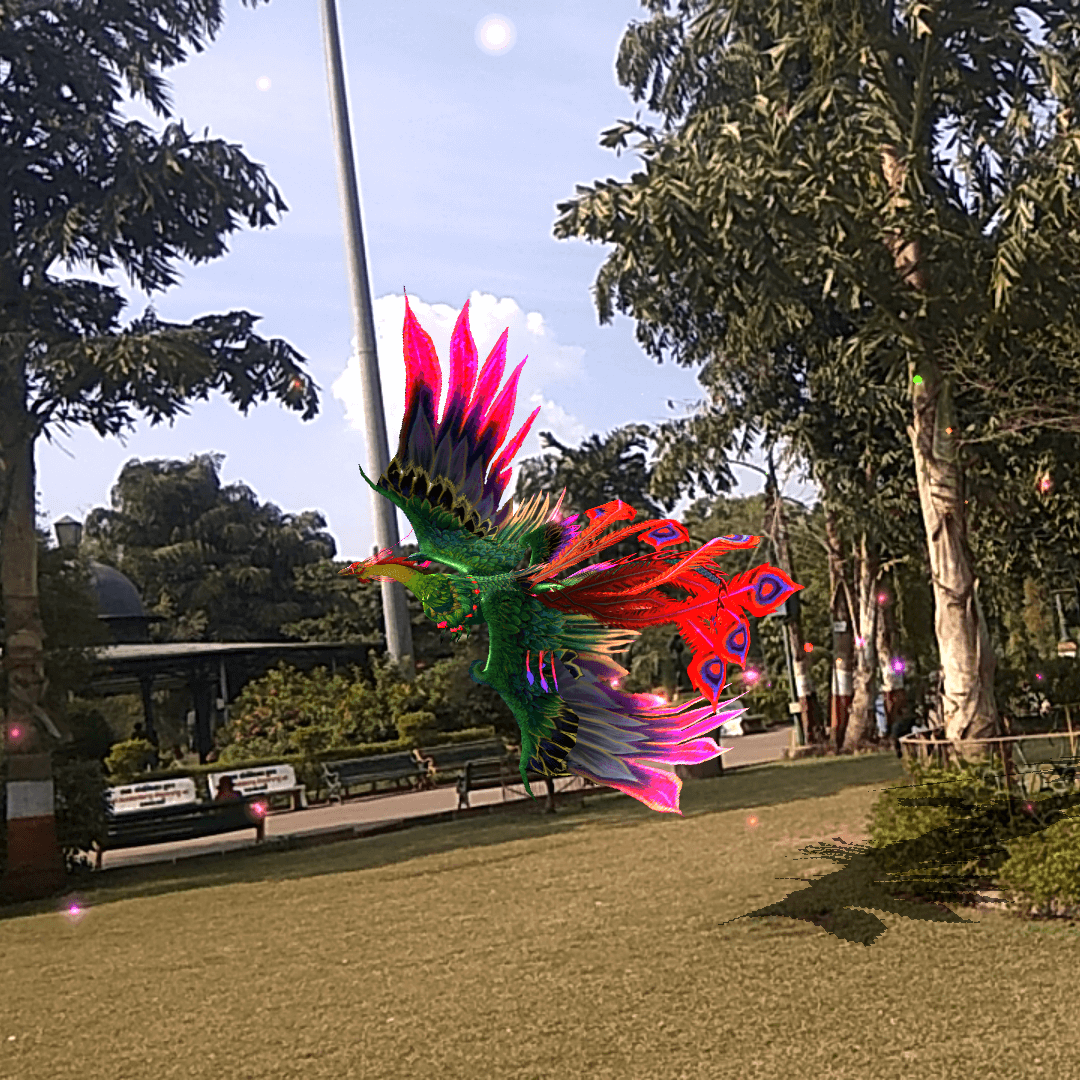 Experience being at the center of a scene full of mythical immortal Phoenix birds.
In Greek mythology, a phoenix is a long-lived bird that cyclically regenerates or is otherwise born again. Associated with the Sun, a phoenix obtains new life by arising from the ashes of its predecessor. According to some sources, the phoenix dies in a show of flames and combustion, although there are other sources that claim that the legendary bird dies and simply decomposes before being born again. There are different traditions concerning the lifespan of the phoenix, but by most accounts, the phoenix lived for 500 years before rebirth. The phoenix is sometimes pictured in ancient and medieval literature and medieval art as endowed with a halo, which emphasizes the bird's connection with the Sun.
Although the phoenix was generally believed to be colorful and vibrant, sources provide no clear consensus about its coloration. Tacitus says that its color made it stand out from all other birds. Some said that the bird had peacock-like coloring, and Herodotus's claim of the Phoenix being red and yellow is popular in many versions of the story on record. Ezekiel the Dramatist declared that the phoenix had red legs and striking yellow eyes, but Lactantius said that its eyes were blue like sapphires[15] and that its legs were covered in yellow-gold scales with rose-colored talons.
Herodotus, Pliny, Solinus, and Philostratus describe the phoenix as similar in size to an eagle, but Lactantius and Ezekiel the Dramatist both claim that the phoenix was larger, with Lactantius declaring that it was even larger than an ostrich. Here is an artist's depiction of phoenix in augmented reality at SooperparK.
Learn about Phoenix sky @ https://link.vuexr.com/sl/9AfbmPkJDPhtUNKH6
Here's a video that tries to capture the experience of being at the center of Phoenix sky at Sayajibaug.
Experience Phoenix sky in 3D right here in a vue web player. Just hit the play button below and walk in the vue using W-A-S-D or up-down-left-right arrow keys and navigate your way in 3 dimensions using mouse left click. Don't forget to share this with your friends and family.
SooperparK is an Augmented Reality park that is going to be spread across the entire earth. Yes, you heard it right, the entire earth. Starting from our very own smart city Vadodara, AR World is going to design and place vuespots across India and then the world.
Bringing Augmented Reality based media right to our mobile phones, VueXR gives us the power to design and pin vues on geolocation. AR World brings to the citizens of Vadodara the first-ever AR park in the history of parks at Sayajibaug.
Take out your smartphones and walk inside an Augmented World, pause the vue and feel like you are at the speed of light and time has frozen for you, learn about various facts of the solar system by visually seeing it in front of your eyes, witness how the dinosaurs went extinct, stand in the middle of world war II, play with giant turtles, sharks, whales, and octopuses right around you.